Webshop
---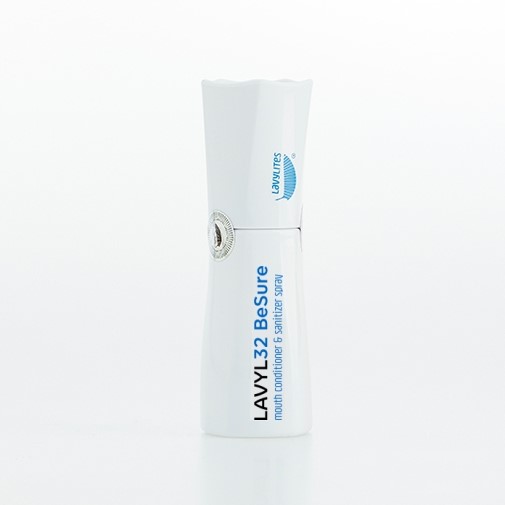 Lavyl32 BeSure 50ml
Oral conditioning cosmetic product with antiseptic effects
Net price: 45.00 EUR
Lavyl 32 Besure has been qualified by TÜV as a cosmetic product with antiseptic effects. The certificate can be seen
HERE
.
Proven: Oral conditioning spray with special, complex regenerating effects that conditions the teeth, gums and oral cavity while destroying dangerous pathogens. Its antiseptic effects have been proved by TÜV tests. Lavyl32 BeSure is one of the newest Lavylites creations, composed from carefully selected medicinal plants extracts. It is a version with strong antiseptic effects of the oral spray Lavyl32, which is popular in more than 30 countries. Lavyl32 is one of the most popular Lavylites products around the world and is re-purchased after the first use by the vast majority of users.
Unique formula: Product made of high- quality medicinal herbs with complex effects, free of micro-plastics and harmful chemicals. Its master blend created with specialized techniques from ingredients combined in unique proportions, contains components of a variety of sizes, from unimaginably small ones to macro-sized clusters. The precious composition of the active agents, guarded like a real treasure, distinguishes it from any other cosmetic product. The popularity of this creation, its production security, international supply chain and the consumer feedback on its mechanism of action have launched a new standard in oral hygiene. With Lavyl32 Be Sure, the new member of the Lavyl product family, Lavylites has created a new category of quality oral hygiene worldwide, which reunites the antiseptic effects with oral conditioning.
Holistic effect: Lavyl32 BeSure nourishes gently and protects thoroughly. It supports oral hygiene in a natural and gentle way but is ruthless with pathogens that pose a threat to our body. It is excellent for the disinfection of the oral cavity, which is important not only from the point of view of dental and gums care, but also because the mouth is one of the main gateways through which pathogens enter the body. With proper oral hygiene, we can do a lot to maintain the right balance of the oral bacterial flora – which will affect not only our teeth, but our entire body as well! This is because pathogens do not stop in the mouth but are very likely to get into the body. However, Lavyl32 BeSure ensures gentle disinfection of the oral cavity while providing complex support for the maintenance of healthy teeth and gums.
Instructions: Spray 1-3 puffs in the oral cavity, 2-3 times a day. Avoid contact with eyes. Store in a cool, dark place, away from heat and sparks. Keep out of the reach of children.
Caution: Lavyl32 BeSure is composed predominantly of natural ingredients, it is not tested on animals, it is GMO-free and does not contain resin, artificial dyes, silicone, sulphate, paraben, paraffin, aluminium salts, or synthetic perfume. It is also appropriate for gluten-sensitive, lactose-sensitive, diabetic, vegans, and vegetarians.
CPNP: 1461148
Product ingredients: Aqua, Alcohol, Mentha piperita extract, Lavandula angustifolia flower water, Rosmarinus officinalis extract, Peg-35 castor oil, Lavandula angustifolia oil, Citrus medica vulgaris fruit extract, Tocopheryl acetate, Lecithin, Mentha piperita oil, Retinyl palmitate, Ribes rubrum fruit extract, Linalool. Limonene, Citrus aurantium dulcis peel oil expressed, Eucalyptus globulus leaf oil, Ricinus communis seed oil, Litsea cubeba fruit oil, Rosmarinus officinalis leaf oil, Melaleuca alternifolia leaf oil, Cananga odorata leaf oil, Melissa officinalis leaf oil, Citral, Geraniol, Citronellol, Farnesol
Article number
1L32B050XX77